Việt Nam Card Day 2023 to be held next month
The third Việt Nam Card Day 2023 is set to take place at Hà Nội National University of Education's Stadium between October 6 and 8 with the theme of Bứt phá giới hạn (Break the limit)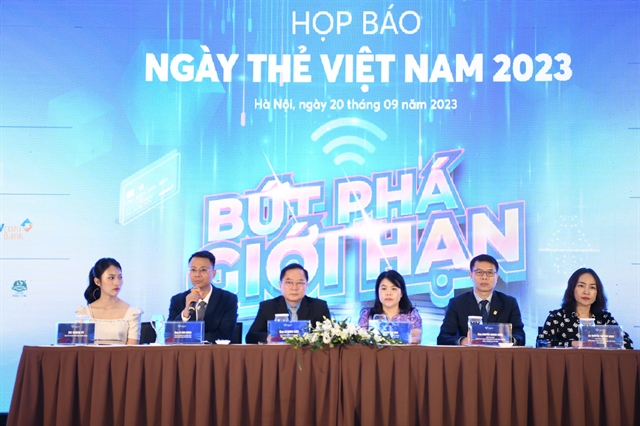 A press meeting to announce the third Việt Nam Card Day 2023. — Photo courtesy of the organiser
HÀ NỘI — The third Việt Nam Card Day 2023 is set to take place at Hà Nội National University of Education's Stadium between October 6 and 8 with the theme of Bứt phá giới hạn (Break the limit).
The annual event is jointly held by Tiền Phong (Vanguard) newspaper and the National Payment Corporation of Việt Nam (NAPAS) under the instruction of the State Bank of Việt Nam (SBV), aiming to spread the innovation spirit based on digital technology to promote non-cash payments and digital transformation in the country.
Speaking at the press meeting held in Hà Nội on Wednesday, Lê Anh Dũng, SBV's Deputy Director of the Payment Department said: "Non-cash payment is an inevitable trend in the process of moving towards a cashless society and developing a digital economy, and Việt Nam is no exception to that trend. New technologies and modern solutions in payment are being applied by banks such as contact and contactless chip card technology, QR Code."
He added that banks have also promoted the issuance of physical and non-physical bank cards electronically through eKYC quickly, safely, and cost-effectively. The activities in the Việt Nam Card Day 2023 will contribute to popularising and propagating the bank's new services and payment methods to the people, starting with young people – the future owners of the country. This is also an important goal in the National Financial Inclusion Strategy and the non-cash payment development project.
Nguyễn Quang Hưng, chairman of NAPAS said that the diversity and benefits of new payment methods have contributed significantly to the strong development of the e-payment sector in recent years. Statistics showed that by the end of the second quarter of 2023, payment activities through NAPAS's network increased by 65.1 per cent in number of transactions and 12.1 per cent in value compared to the same period last year. Among them, cash withdrawal transactions via ATM in the second quarter of 2023 tend to decrease by 13.5 per cent in quantity and 17.8 per cent in transaction value compared to the same period in 2022.
The third Việt Nam Card Day 2023 includes the following events a workshop on promoting card activities and future payment trends held on September 26; Việt Nam Card Day exhibition from October 6-8. — VNS
Cre: Việt Nam News
——————
NGÀY THẺ VIỆT NAM
Website:
https://thevietnam.com.vn
Tags: #emera #ngaythevietnam #baotienphong #napas #NTVN2023 #songfestival #sukienchogioitre #hoithao #thanhtoandientu #thanhtoan #thamnhung #nganhang #NHNN #thanhtoankhongtienmat #xuhuongthanhtoan